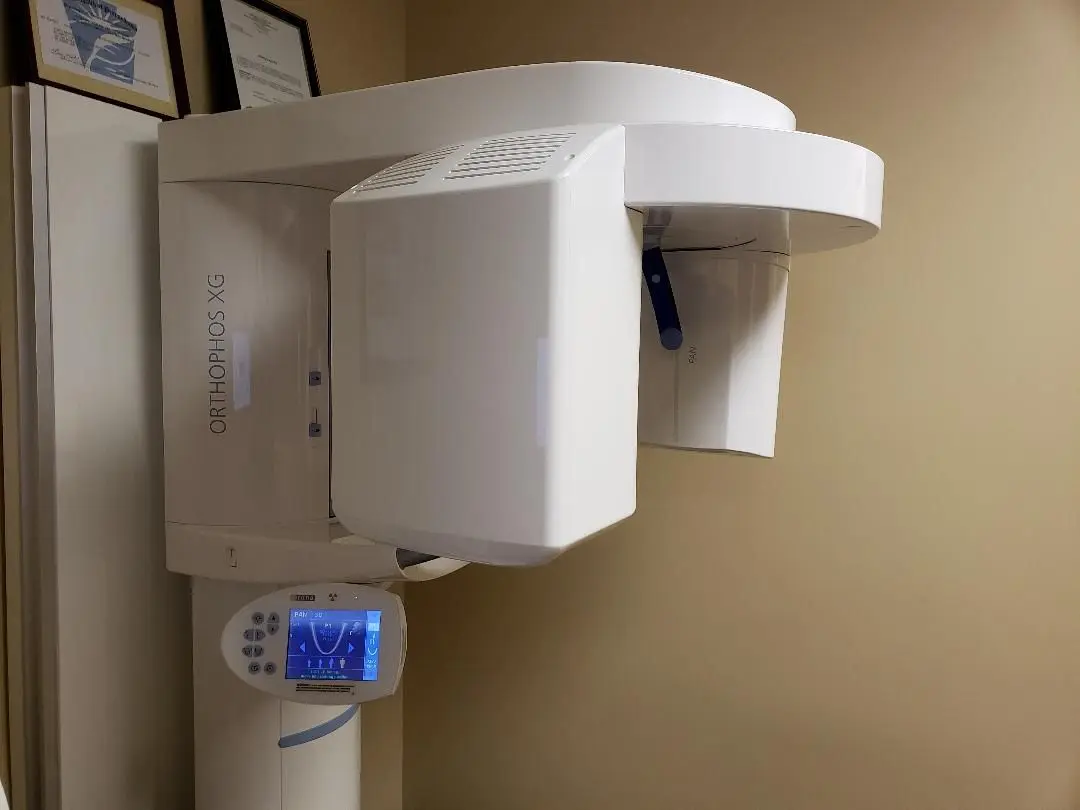 Orthophos XG 3D Cone Beam Digital Dental Imaging System

The current emerging standard of care in dentistry and dental implantology is the use of three dimensional x-ray studies. The 3D images allow Dr. Mann to collect the needed and highly valuable diagnostic information so he can best plan and deliver dental and surgical care.

Orthophos XG 3D Cone Beam Imaging provides advanced three-dimensional imaging right at Pocono Pines Dental rather than having to goto an imaging center. The system offers active sagittal, coronal, and axial viewing and manipulation. It enhances diagnosis and treatment planning by providing more accurate imaging. Using the 3D mapping tool, Dr. Mann can easily format and select desired slices for immediate viewing. Cone Beam imaging delivers quicker and easier image acquisition. A typical scan takes only 14 seconds!!

The patient benefits from more accurate diagnosis and the comfortable, open environment. Aside from the physical comfort of this system, Dr. Mann will share a visual diagnosis with you, helping you be more comfortable with your treatment plan since you actively participate in your care. The speed of the scan and the immediate results allows Dr. Mann and you to better communicate all aspects of your case.


Benefits of Using the 3D Cone Beam Compared to traditional CT scans:

• Offers advanced imaging on site at Pocono Pines Dental
• Allows doctors to visualize anatomy that can not be diagnosed externally or in 2 dimensional images.
• Safer - delivers less radiation to the patient than traditional CT scans.
• Open environment ensures patient comfort.
• Thorough diagnostic information (optimum view of the critical anatomy of all oral and maxillofacial structures.)
• More accurate treatment planning - confirm certain treatments are necessary.
• More predictable treatment outcomes.
• Reduces the length and cost of therapy
• Delivers quicker and easier image acquisition - typical scan takes only 14 seconds!

The 3D Cone Beam is fully open and has a short image capture time. Scan images are ready for use in less than 3 minutes and can be emailed, placed on a CD, or printed in full color.

The diagnostic images from the 3D Cone Beam scanner are used to plan for accurate, ideal placement of your implant with our Sirona Galileos Software. We then create a surgical guide so the implant can be placed as precisely as the surgical plan. This computer guided surgery makes implant placement safter, minimally surgical and allows Dr. Mann to make the most natural looking implant restorations.
We also use the 3D Cone Beam scanner to find difficult to diagnose problems such as root canal failures, perforations and tooth fractures. Your wisdom teeth can be imaged in relation to the inferior alveolar nerve so that they can be removed with confidence that the nerve will not be affected. If the nerve is very close to the tooth then a plan can be devised to treat the wisdom tooth without effecting the nerve. This fantastic tool has revolutionized dentistry and it is available in Blakeslee PA at Pocono Pines Dental!